About the Second Wind Sailboat
Second Wind is a 36′ S2 sloop made right here in Michigan and is fully inspected for your safety and comfort. You will be amazed at the stress free sailing once aboard as we have all the modern conviences such as auto pilot, electric winch, bow thruster and updated electronics. She offers comfortable dining both in the cockpit  and below, a full galley as well as a marine restroom(head.) She also features a popular custom crafted bench seat up front so you can enjoy your adventure in supreme comfort and privacy. Easy access to the water for  swimming is provided and  both sun and shade are easily obtained during your sail.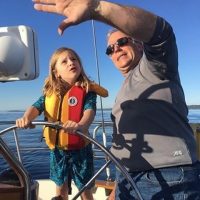 Captain Loren
Captain Loren Newton has 40 years of sailing experience with thousands of miles in the Great Lakes.  He has completed several Port Huron to Mackinaw and Chicago to Mackinaw races as well as club racing on Grand Traverse Bay. Captain Loren is also a popular ASA sailing instructor for "Great Lakes Sailing" in Traverse City and has spent considerable time cruising in the North Channel of Lake Huron, completed deliveries to different ports on Lake Michigan and enjoyed hours of pleasure sailing with his family on their 36′ S2 sailboat Second Wind. He is also along with his wife Kathy ,long time members of Grand Traverse Yacht club the hub of the Traverse city area sailing community. Captain Loren will entertain you and also keep you safe while on board!  You have the best of the best with Captain Loren at the helm!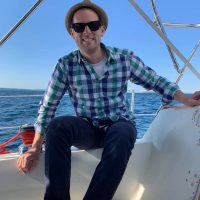 Captain Ian
Captain Ian McGurn grew up sailing in the Grand Traverse region. Over the last 30 years he has fallen in love with the world of sailboat cruising. Ian has worked as a boat captain and as a sailing instructor in the area and on the East coast out of Boston harbor .In the non sailing season Captain Ian is a popular science teacher at Traverse City Central high school and the father of 3 young future sailors. Sailing has been a central part of his life and he always looks forward to sharing it with others.