Sharing the wisdom of the open water
with those wise enough to seek it out…
Call
231-421-7000
 for last minute availability!
New in June 2022 - Wind Sailing Partners with TC E-Bikes!
WIND Sailing is excited to announce our new partnership with TC E-Bikes.  We  offer discount combination packages for two outdoor adventures in one day!  Check out the Sail / E-Bike Package page for more information.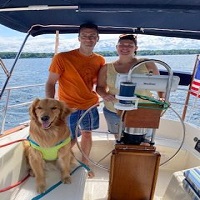 We offer private sails throughout the day as well as sunset cruises (our most popular).  We also offer overnight stays and firework and airshow sails.  Bachelorette parties, anniversaries, birthdays?  We will make it special and memorable! Need to customize a sailing adventure outside of what is on our calendar? We can do that for you. Give us  a call 231-421-7000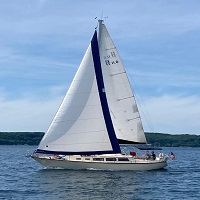 Second Wind is a 36′ sloop made right here in Michigan and is fully inspected by the US Coast Guard and Michigan DNR for your safety and comfort. The boat offers both sun and shaded areas along with a very popular custom crafted padded bench seat on the foredeck to enjoy the view in comfort and privacy. A marine head, dinette and full galley are also provided. You'll be amazed at the stress free sailing aboard as the boat has all the modern conveniences such a auto pilot, electric winch, and up to date electronics!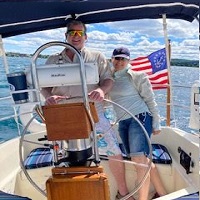 Come sail with us on beautiful West Grand Traverse Bay.  Wind Sailing offers a variety of charter lengths where you can take the wheel or just relax and enjoy the scenery.  Our captains enjoy answering questions and teaching about the wonderful world of sailing!  Anchoring and swimming is another option as the water is clear and refreshing.
Location
Elmwood Township Harbor
12935 SW Bayshore Dr
Traverse City, MI 49684
 Sailing Season 2022
Begins May 9th
Leslie Cuppett
2022-06-17
Wonderful sail! Fantastic outing with Captain Loren. Beautiful views of the area from a different perspective. He is knowledgeable and welcoming. The boat very comfortable and sails nicely. I highly recommend a trip with him. Suitable for families. Don't miss the opportunity to be out on Grand Traverse Bay.
Katherine Ernst Mehta
2022-05-26
We had a wonderful time sailing with Captain Loren! It was a smooth ride, and he answered all of our questions about the boat, sailing, and Traverse City. Would absolutely recommend to any visitors as part of the Traverse City experience!
My wife and I did the sunset 2-hour tour with Captain Loren. He was communicative leading up to our tour date and made sure we had an amazing experience. Loren was knowledgeable and very accommodating. Totally would do this tour again!
Madison Dellamorte
2022-05-16
Captain Loren was great! This was an amazing experience for our first time on a sailboat! Highly recommend!
Great time with friends on the lake!! Great weather for sailing!! Thrilled to sail with WIND SAILING
Stephanie Cappello
2021-09-12
Awesome time on the boat! Had such a great time enjoying the wind and lake⛵
My husband surprised me with an early birthday gift of an afternoon sail on Grand Traverse bay. Loren was fabulous. Skilled sailor and warm host. The boat is beautiful. Sailing is an amazing experience. We enjoyed every single minute.
My husband and I had a fabulous time celebrating our honeymoon on this sailing charter! Captain Loren was AMAZING! His wife even got us a bottle of wine to congratulate us. If I could give them a rating of 100 stars I would! We will be back!
Amanda Del Cotto
2021-07-29
We had such a beautiful sail with Captain Loren. He made a 2 hour sail with twin 3 year olds easy, they were so thrilled to help him steer. We loved having the boat to ourselves. From booking the trip to the actual sail, everything was easy and everyone was so friendly and helpful. Thank you! I'd highly recommend and will do this again our next visit.
Curtiss Gulash
2021-06-05
Amazing experience for our wedding anniversary! Sailing with Captain Ian was great. We'll definitely be coming back!